Despite being a stat driven game, I don't get over to look at the
MLB standings
all that much. I went to check to see how the Reds are doing, and although they're still in the division/wild card race, the team records are tight, much more tight than I ever remember seeing them this late in the season. In the NL there are realistically 10 teams (out of 16) still in competition for the four playoff slots. It's less so in the AL with about six teams, but it's interesting that Cleveland in the AL Central considers their season to be somewhat of a failure even though they only have five fewer wins than the Reds who are playoff contenders in the NL central. Or how about Detroit in the AL with 82 wins, and with thirty games left to play they could theoretically only win 1/3 of their remaining games and still make it into the playoffs; if they keep up their current win percentage they'll clear a remarkable 100 wins for the season.
On a different note, why is the number of teams in each league so goofy? Why does the NL have a division with six teams while the AL fields one with four?
And another thing, when are American teams going to start being named after ham production companies like they are in Japan? And better yet, when are they going to cheerleaders as well? Maybe I'd check their 'stats' more often...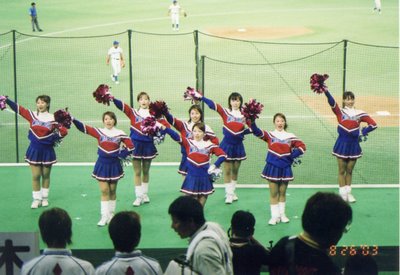 I love their team motto: "Continue buring the soul"