Because none of my friends believe that I eat healthy on occasion, I'm going to make an effort to photo my bentos that I assemble based on
this cookbook
that my sis got my for Christmas.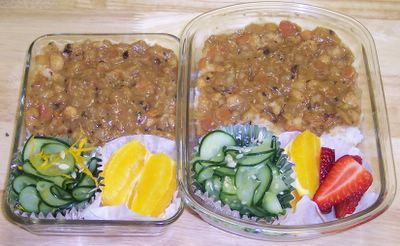 The main dish is a shrimp donburi over rice. (Though the original recipe called for ground chicken. I also switched out the green pepper with a chipotle which is about as Japanese as it gets it right?) The one on the left got packed with a citrus'd cucumber (which is heavy with zest because I'm a zesty type of guy), while the one on the right got packed with vinegar'd cucumbers with sesame seeds. I evened the fruit between the two by putting lightly sugared strawberries in the right-hand dish.
Now that you're bored to tears...